We are lame bloggers. Forgive us?
I'll get back on the band-wagon here.
We (primarily me) have been homesick lately. We do things, but nothing feels noteworthy enough to take pics or blog about. At first, being in Korea was so novel and we were so excited about everything we were doing. Now, after 1.5 years, we feel settled. It's nothing new anymore (except for the plate of hacked up dog meat we saw the other day, but that's another story!)
Something's been on my mind for a while. I'm learning a lot about who I am since being here. I've come to realize that I am totally an American. I am often NOT proud to be an American, but it is my culture, and I realize now what a huge role it plays in who I am.
When we moved here, I just wanted to blend in and be a "real" Korean. I wanted to soak it in, all the culture I had "missed out on" since being adopted. What I've realized is, I can't erase who I am. An American! I mean, refer back to my Thanksgiving post for further evidence! When I'm in the States, I feel like I'm more Korean, but being here makes me feel more American. I suppose it's the "different" that makes its way to the surface. In the States, people see a Korean face, and therefore see someone who is different; a minority. Here, they see me as Korean. They know just by looking at me that I was born here. But as soon as I open my mouth, they know I'm different. It's like I'm an alien inside a disguise. Something's not quite right. There's a lot of confusion, lots of questions. People want to figure me out. It can be frustratingly humorous! It's like they're trying to solve a riddle or put together a puzzle in their heads… Why can't this Korean girl speak Korean?!? In Korea, I rattle off the phrase that explains I'm from America… Still, they are puzzled. They continue talking to me in Korean. "Uh, I don't understand. Only English," I say. I try to explain… "Uh, parents, American. White." At this point, they either give up, still visibly trying to put the pieces together, or they give a nod and walk away. I am sorry I didn't learn Korean growing up (when my brain was more of a sponge). It's really pathetic though that I haven't learned much while I've been here. Just a lazy American I guess. ;) Really though, it's just been too easy surviving without it, we haven't needed to learn (well, we can read the language, but we don't know what things mean… That can count for something, right?)
What I should have known from the beginning: I can't blend in. I am not a "real" Korean, and even if I could speak the language well, I wouldn't be accepted as the real deal. I'm too different. I didn't grow up here. So I'm embracing my Americanness, something I never really did before.
What do I miss about North America? I miss simple things. Relating to people about TV shows, books, music, places. We were talking to our co-workers (who are from Canada) about candy we ate as a child. It was the most amazing conversation! You can just relate! I miss talking in my normal lingo and having people understand what I'm saying and getting my humor. We find ourselves talking in poor English on purpose because it's simple and we know we'll be understood. Sometimes we feel like our English ability has gone downhill. Our brains feel kind of stagnant. I feel like I should exercise my brain and keep it lively (Hmm, maybe I should learn Korean?)
I definitely feel ready to come back to the states. I know it will be comforting. (Even if it seems like an utter mess, and I'm nervous about the future). Just being able to easily communicate. I miss that.
I know when we get back, I will definitely appreciate America a lot more. (Sidenote: I never used to call it "America" until coming here, but that's how its referred to here). I look forward to family and friends, diversity, great food from all around the world, speaking in our native tongue! I am inspired to travel around and explore the States and Canada. I've definitely taken it for granted. It does have it's pros, like every country. Every place has it's good and it's bad.
But there are amazing things I will miss from Korea. I know I will miss it a lot. As frustrating as it can be sometimes, I do love it here! As much as I dislike the job, and want to quit sometimes, when I picture myself getting on a plane and leaving this country, my heart aches. I love Korea and am proud of my heritage. I imagine I will forever feel torn in two directions… I will want to come back. Korea has always been a part of me. As cheesy as it may sound, being here has filled an emptiness in my heart. Living here has given me more pieces in which to shape my identity. A Korean-American. An American-Korean. An American, Korean-adoptee.
PS: I didn't know Katherine Heigl adopted a daughter from South Korea. I live in a bubble.
The only time we watch Korean TV is at restaurants or hotels. Out of the few times I've watched it, it always seems to be some sort of celebrity show, or a show about food and farming. And usually, on that said celebrity show, they're put in a country house and forced to do some sort of manual labor, which usually revolves around food. This could all be pure coincidence, but I don't think it is. Koreans care about their food more than Americans. Sure, they use the same chemicals and hormones, but I don't think they'll forget where their food comes from (the dirt, by the way, where bugs live), nor will they forget their food culture.
---
Tonight, we had a new Korean dish: Kimchi Galbi Jjim (김지 갈비찜). The meal was like a lot of our meals here, one big dish cooking in the middle of the table, with tiny sides beside it. All shared, communal style. The table next to us had six people, and three bowls of soup. And they weren't married couples. I'm talking about two Korean men sharing the same bowl of soup (I've seen old men share noodles). It may seem as if they aren't afraid of germs, but that's not the case. They were pretty nervous about Swine Flu.
Anyhow, 김지 갈비찜 = Delicious. I liked Kimchi before we came, but now I love the stuff. The problem is, we're introduced to it the wrong way. It's not at its best sitting on a plate after having been fermented for a year. It's amazing fresh, but even better cooked. In this case, Jjim, means stewed. Galbi is pork. It was like a spicy pork and cabbage stew. I don't know how, or why Kimchi gets so delicious when cooked. It tastes almost tomato-y. Try it if you see it on the menu of your local Korean place. And if you get BBQ at a Korean place, the real kind where you grill it at your table, put the Kimchi up there with it… Trust me. How many of you eat Korean food, by the way, show of comments. I liked it. Six months ago it wasn't even in my top five cuisine choices, but something clicked and its in the top three now. I use gochujang, kim, doenjang, and sesame oil on a regular basis. I find that I don't even miss anything anymore.
We haven't blogged that much lately. Sorry. We've been working on our plays at school. Tomorrow is our performance, but it won't be in front of parents yet (swine flu is still a threat), that will happen in February.
I would have thought this looked like puke when we first got here, now though it looks pretty good just because I know its taste.
Industrial Park, Ann Arbor, Michigan
From the suburbs of a small city in the USA, to a much larger suburb of Seoul, South Korea, I wasn't sure what to expect. Blocks of tiny houses? McMansions? Expansive interstates, with convenient off-ramps to large strip malls and floating box stores surrounded by well manicured landscaping? For twenty-two years that was the world I knew. We need something? Okay, get in a car, drive, park in the lot, and walk a couple meters to the store or restaurant. In college, I embraced suburbia, and took comfort in the shopping malls, the smell of Target, the bright lights hanging over the lone shrub in the miles of parking lot. It was an aesthetic I applied to music, writing and art I made in university.
Bundang, the suburb (or satellite city, as it's also known) of Seoul is nothing like Southeast Michigan. If I walk outside of my apartment, I can get my hair cut, rent a movie, and choose from six restaurants without leaving my small street. In one block either direction I can get all my groceries. Coffee shops, convenience stores, noraebangs (karaoke rooms), bars, a library and anything else I need are all within a five to ten minute walk from my apartment. A radically different lifestyle from the car-dependent one I was raised.
If I choose to leave our neighborhood, I can take an inexpensive bus or subway (less than $2, gets us anywhere in the city). Or ride a bike along the Tancheon, a stream that runs through Bundang, lined with a bike lane, and a walking lane, which makes for a perfect commute to work in the morning. The Tancheon also serves the community with basketball courts, playground, mini-golf, and waterparks for children; a living space for the people of Bundang. And, if I chose to leave it, Seoul is a short 30 minute bus ride, thanks to dedicated bus lanes on the expressway that whiz past the constant traffic.
This is why I'm changing directions. For a while I have planned on studying Library Science, but further research, and really evaluating my level of excitement for courses such as Library Automation and Systems, Document and Subject Analysis, or Cataloguing and Classification made me question, is this really for me? Add to that, the lack of opportunities (apparently, all those librarians aren't retiring) and the uncertain future for libraries (I don't want to manage a computer lab, or youth video game night).
So, Urban Planning/Design it is. Why? The first few paragraphs are the beginnings of my motivation for graduate school. Basically, I dread returning home. I love you, who is reading this, but I don't love cars (I never want to buy one again). I don't love strip malls. I want to live somewhere with density, places I can walk. I like buildings that house apartments, restaurants, businesses, and offices all in one. Sure there are places like New York, and Chicago, but people all over the U.S. should be able to get around without a drivers license.
This seems like a better fit. One, its something I'm very interested in. Two, it's a job that is needed. We won't be able to live this way forever in North America. Eventually, we'll run out of oil, and we'll need to live closer to our neighbors. It also helps that the job comes with some room for creativity, and computer applications I enjoy spending time with (AutoCAD, GIS, Sketch Up, etc).
Right now, I'm looking at schools in the UK, and Netherlands. They're cheaper, and the they're cities offer more examples of the planning I wish we had in the States.
Just thinking about how I'll miss eating all that delicious food.
I'm pumped to cook Thanksgiving dinner next year though. I plan to make things from scratch. Setting the bar high!
I don't want anyone to bring anything. I want to provide all the food. I've missed the holidays that much!
Here's a rough draft for the 2010 menu:
THE TURKEY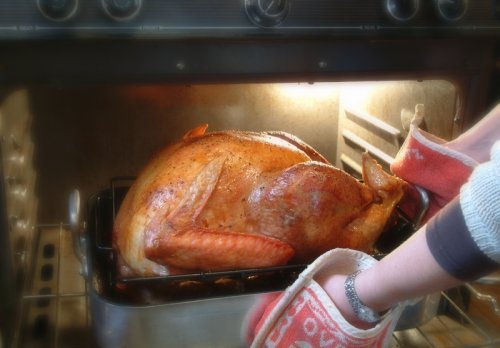 "Michigan Amish fresh turkey $3.49/lb. Raised on pasture at Hillcrest Farm by David Schmucker of the Amish community in Homer, Michigan. Artificial fertilizers, pesticides and herbicides are never used on the farm. No growth hormones, antibiotics or animal by-products are used in feed."
Turkeys can be ordered through Arbor Farms: "Serving the Ann Arbor community since 1979, we offer local and organic produce; fresh Michigan grass-fed beef and organic lamb; Amish and organic chicken; natural pork and turkey; fresh seafood; gourmet deli; and breads and sweets from the area's finest bakeries. The freshest produce, naturally-good grocery selection and our knowledgeable nutrition staff will keep you coming back!" http://www.arborfarms.com
I plan to brine the turkey (need to find the perfect recipe), and hopefully cook it in the conventional oven… Just have to figure out the logistics of cooking everything else. Clearly, we need two ovens!
GREEN BEAN CASSEROLE
http://www.foodnetwork.com/recipes/alton-brown/best-ever-green-bean-casserole-recipe/index.html
SWEET POTATOES
I'll be relying on the good ol' family recipe… Hopefully with organic/local ingredients.
MASHED POTATOES
Cover 2 pounds whole russet or Yukon gold potatoes with cold salted water; simmer 45 minutes. Drain, peel and mash with 1/2 to 1 stick butter. Add 1 cup hot milk, and salt and pepper; mash until smooth and fluffy. I may add some garlic, too: Fry 8 thinly sliced garlic cloves in 3 tablespoons olive oil until crisp; drain. Drizzle the oil into classic mashed potatoes, garnish with garlic pieces.
BRUSSEL SPROUTS
This dish will only be eaten by myself, my mom, and Cory. No one else is going to touch it. But it will be delicious! http://www.marthastewart.com/portal/site/mslo/menuitem.fc77a0dbc44dd1611e3bf410b5900aa0/?vgnextoid=e17940ee0c90f010VgnVCM1000003d370a0aRCRD&vgnextfmt=default
STUFFING
http://www.foodnetwork.com/recipes/the-best-of/moms-dressing-recipe/index.html
GRAVY
This is the best I've found so far: http://www.recipezaar.com/Kittencals-Easy-No-Fail-Make-Anytime-Turkey-Gravy-145064
CRANBERRY SAUCE
Might research this dish a little more, but this one looks yummy-even though I've never actually tried cranberry sauce…
http://www.marthastewart.com/recipe/basic-cranberry-sauce?backto=true&backtourl=/photogallery/cranberry-sauces-and-relishes#slide_9
DINNER ROLLS
http://fortheloveofcooking-recipes.blogspot.com/2008/12/moms-dinner-rolls.html
CORNBREAD
Still trying to find some good recipes. Might just have to test a few out before T-Day. This is the best recipe I've found so far. http://www.northjersey.com/food_dining/recipes/No_Title_-_eatinginbl1030_box1.html
PUMPKIN PIE
Ignore the canned pumpkin puree in the background. I want to try making a pie from a real pumpkin! Check out this detailed link: http://www.pickyourown.org/pdfs/pumpkinpie.pdf
SWEET POTATO PIE
I've never had this pie, but I want to try it! Maybe I'll make this one: http://www.cooks.com/rec/view/0,1938,147175-240199,00.html
All we have here is a small toaster oven, which we only recently purchased… I really miss cooking and baking, and the convenience of a big, American oven. :)
CAN YOU TELL I'M EXCITED AND READY TO COOK?
In the spirit of Thanksgiving in Asia, here's Hello Kitty, wishing you a wonderful holiday.
For those of you who don't know, or don't remember, Cory and I were classmates in 2nd grade (until he moved to Ann Arbor a few months into the school year). We were classmates long enough to celebrate Halloween together in 1993, though we don't remember each other.
We came to this realization when we started dating our senior year of high school. We found out (or maybe our moms found out) that we had both been in Mrs. Brunk's class at Lincoln. Cory's mom thought, "Wouldn't it be funny if there was a picture of you two together?" Turns out there was! Cory's mom found the photo below, and we've since made many copies of it - it even sat out at my high school grad party. Later, we watched some old home video footage of that fateful day, and my 2nd-grade-self was spotted on screen.
So apparently, this Halloween, Cory and I were channeling our former seven-year-old selves.
Here we are in the morning on Friday, October 30th, getting ready to greet the children (and snapping some photos of our own). Cory was a monster and I was a ballerina. Our co-workers were dressed as a Japanese schoolgirl and an anime fighter. :)
Here we are in second grade, October of 1993. I was an "old-fashioned schoolgirl" (I tended to, spur of the moment, make up random costume ideas that only I understood…), and Cory was a purple dinosaur (not to be mistaken for Barney).
Note the minute similarities:
I have my hair in a bun and came up with a costume using clothing from my closet (plus a skirt from a friend this year).
Cory is wearing a colorful, dorky, homemade costume (not his mom's handiwork this time, but crafted by his own hands).
I guess we've come full circle.
I know it's exactly what you're thinking…
WHAT IS IT?
Truthfully I don't know. It's called, "What can you make using only supplies at a Korean Kindergarten". Kindergarten Supply Room Monster? Mutant Swamp Frog Monster?
I paper-mache-d my head this afternoon. I'm sure I'll post pictures of the completed costume after Halloween…
(There you go, Sandy. No more Salami!)
Things we bought:
Salami. This was about 15 dollars. I splurged in celebration for paying off my loan! Cured, or dried meats, are my favorite. When I go back to being a more dedicated Vegan/Vegetarian, I will let it slide when it comes to Salami or Korean Barbeque.
Cheese.
Salsa
Sour Cream, split with Mike & Kait (our coworkers), who have the membership…
(NOT PICTURED) Pumpkin Pie, also split with M&K.
Today, after work, we got off the subway, walked the five minutes to our apartment to we drop off our bags. Then we went downstairs to one of ten restaurants near the entrance of our building and ate dinner with our friend (delicious Galbi). Afterwards, I walked right next door to get my hair cut. Then, I went back upstairs to our apartment, and in the elevator I thought, I'm going to miss this…
I love Korea in so many ways (and hate it in others)…
Cory: Ask anyone their hobbies, or what they'd like to do, and "traveling" always seems to be in their list of answers (especially here in Korea among a bunch of expats), and yes, I have said it, but truthfully I don't know how much I really "love" it.
Traveling is weird. I'm still not sure if I have really warmed up to it. I'm shy, and hate to be a bother. Two qualities/weaknesses definitely not suited for a traveler. I can't help but feel as if I'm disturbing the lives of those around me, as I traipse around their country with bulky camera in hand. I'm too embarrassed to butcher their language, and even more embarrassed when I have to use mine. I like to be quiet, and just rely on myself. I prefer to be a ghost. Which is why seeing ancient temples, small towns/villages, holy sites, or other places of intimacy makes me feel like the intruding anthropologist, or man-with-hot-dog-at-polar-bear-cage.
Our trip had ups and downs. The arc went a bit like this: Yeah, this is cool, I really like it here -> I'm kind of bored -> Oh, this place sucks, I'm ready to go back to Korea -> Oh, wow, this place is amazing!
Karen: I think the hardest part about traveling is the exhaustion - physically and mentally. I went from total excitement/amazement to practical depression in a span of like two days. I can't help getting disappointed if something isn't as I had hoped or expected. But I'm getting better about going with the flow, and everything does always work out. For me, I'm a planner and I like knowing that things are in order. And I can get moody. So for me, traveling can be hard (which also makes it hard for Cory). Each subsequent trip gets easier though. Taiwan has really only been our second traveling experience, and already it felt easier than our first trip, Malaysia.
We went into the Taiwan trip with zero expectations and we kind of forgot we were going, so we didn't really prepare much. Compared to our trip to Malaysia when we got super pumped and had all these grand ideas about how it would be… Then we got there and there were a lot of disappointments. We learned anticipation can be better than the actual experience. This time, I think I felt more indifferent about the whole thing. We went, and now that we're back, it's like, "Well, we did it. Overall it was fun…" I have kind of a 'take it or leave it' feeling. Yeah, traveling is fun, but at the same time, it's a lot of work. Maybe I would fare better with my own personal tour guide who can just show me what to eat and where to go.
We were lucky to know someone in Taiwan (Cory's friend James from Grand Rapids). It's really great going to a place where you know someone. Having James and his girlfriend Sarah show us around was really great. And seeing their house/neighborhood was awesome. We ate so many delicious foods that we never would have found otherwise. It's really hard to just pick something to eat - you can't read things, you don't know the language, and most of the time there aren't any pictures. It was nice seeing Taiwan with the help of people who have been there a while. It makes a big difference.
Time is another issue. One week is no time at all to get to know a country. I wish we had more time to really get to know the places we visit. It's honestly been beyond amazing living in Korea, not only because it's my birthplace, but because we can really see and experience the country. Ideally, a person should go live in a place for a year or so just to experience it, then move on to the next place of interest. But that's not realistic for most people (myself included). I have a desire to "settle down," have a real home base. I think my (and Cory's) personality is more of a home-body/get to know the city in which you live/find your niche, as opposed to the adventurous world traveler. If I loved teaching, I would take English jobs all over the world… But there is a definite reason why I changed my major.
Despite my slightly ambivalent feelings and my personality clashes, I am enjoying having this time to travel. I recommend traveling to everyone! You can learn a lot about the world and a lot about yourself. There are more places I want to see (like Europe and even parts of the US and Canada)! I think we've almost had our fill of Asia. We're ready to see another part of the world. Hopefully we'll become more skilled at traveling and change ourselves in the process.
TAIPEI (Yeah this is cool, I really like it here… but now, I'm kind of bored):
Taipei in some ways is like a sub-tropical version of Seoul. Big, crowded and full of tons of things to see and do. We checked out a couple museums, did some shopping, and of course ate. The only really good thing I had to eat was a hakka soup, which featured, bits of pork, duck, cilantro and noodles in a french onion-like broth. I would eat this soup once a week if it existed in Seoul. (Karen didn't like the soup very much, thought the broth was too greasy and not that flavorful…)
We also ate some bad food. Express sushi/japanese food, awful falafel, and weird "Mexican food"… Food only got better as the trip went on, but it was really difficult to find food in Taiwan, as everything good is written in Chinese (same as in Korea, except I can read Hangul).
As far as shopping goes, if you're more in to "streetwear" or really "graphic-y" t-shirts, or just sort of slutty girls clothing, Taiwan is a bit more suitable for you when compared to Seoul. There were some cool things (I wish we had Muji, a japanese goods store) and a lot of the stationary seemed cuter (not necessarily better). I'm also extremely jealous of the few grocery stores we saw. Cheaper cheese, more western goods, and an abundance of cilantro…
We left Taipei with a good impression (better than Kuala Lumpur in Malaysia!), but we were a tiny bit bored. Karen was hoping for some good shopping (she even packed less clothing thinking she'd find some clothes there), but it wasn't her style, so that got old really fast. We were left wondering what to do besides just wandering around.
From Taipei, we took the High Speed Train (HSR) down to Kenting, a small coastal town, with "great" beaches on the southern tip.
KENTING (Oh, this place sucks. A lot.):
First of all, there are so many stray, dirty dogs in Kenting with sad little faces. Karen wanted to buy some cheap street food and just give it to the dogs who were standing nearby. It looked like they were waiting in line like a customer, but they were just hoping someone would drop a scrap of food for them to eat.
In Taiwan, taxi drivers are like prostitutes. "Hey Big Boy, I'll take you where you need to go. Come here. Where are you going? I can take you there! Cheaper. Bus too slow!" We were greeted by about five of them when we got off the HSR. Of course they don't really say, "Hey Big Boy," but they do come at you quite aggressively speaking Chinese. We tried to explain to them we were taking a bus. They wouldn't have it though. They just kept talking and talking. We ended up surrounded by them at the bus stop, and another woman translated for them. She was going to Kenting too, and wanted to share a Taxi (she was kind of scared to go alone). The taxi was a bit cheaper, and a lot faster, so we decided it seemed like a good idea…
I'm not sure how fast he drove, but the websites said I should expect a 2 to 2 1/2 hour bus ride. We got there in an hour. He took us in to the lobby of what was apparently our hotel. I had no idea because it was written in Chinese. We paid him, and I timidly walk to the front desk, "is this, this?" I said, showing him the name of the hotel on my iPod. "Yeah."
We booked a "Wood House," the most expensive option at the hotel. The houses were separate from the hotel, and you had to walk down a small road to get there. We tried to stay positive as we walked down an ally where dogs roamed near some tiny houses. When we saw the "Wood House," which was parked in a parking lot and looked like a prison trailer for conjugal visits, Karen got really disappointed. Ours was conveniently parked in front of a family's home. It was a crappy room. The best part was, there were no towels, just disposable cloths, similar to a paper table cloth. And we could hear the family… It was like we were staying in a room in their house - kids yelling, dogs barking, scooters revving.
"Let's check out the ocean…"
We walked for a good 10 minutes, and could never quite seem to make it to the ocean. We could see it through the tall grass, and wire fences, but we couldn't figure out how to get down there. As we walked we passed charming 3-story hotels, with private balconies and new paint jobs. The owners stood out in front asking us if we needed a room. I wanted to go home, and do it all over again. Karen was obviously frustrated, and not happy with our situation. Neither was I, but what could we do. We just needed to find the ocean… We decided if we could do it over, we would just go to Kenting and walk around to find a hotel. Booking a hotel from home was hard because hotel info was in Chinese, so we just booked the best one we could find that had an English site. And we would have rented a scooter to explore more (find better beaches).
We couldn't seem to find the beach, so we walked back to our hotel for directions. We discovered we just needed to walk a few minutes further in the direction we had been going. When we finally found it, garbage blocked the path of the small, rocky beach. A dirty stream emptied out into the ocean nearby. The water was gray and murky, and the waves were at least 12 feet high (the weather had been stormy). I really wanted to go home.
Our Kenting experience sucked. It rained off and on. We spent the second day in our new hotel room (we ditched the Wood House for a cheaper room inside the hotel) watching TV and sleeping.
On the day we left, in a random bus that I thought was the one we needed, it was sunny, and we passed a beautiful beach a little ways down the road. Nice calm blue water. Clean white sand. Screw you Kenting… We were severely disappointed.
We pulled into a bus stop 30 minutes later, and our driver went to get someone who spoke English. A woman jumped on and asked us where we were going:
"Umm, here." I said, pointing at my iPod again. "I can't read English." I tried to pronounce it, "Zoying…Zooning, Zuonying…" "Oh, Zuoying." she said in a way I don't think I ever could (this was one of my other frustrations in Taiwan. Chinese is not pronounced as it looks in English.)
We sat in the bus stop for about 40 minutes and I started to write something for our blog:
"I do not like traveling. I find it stressful and tiring, or boring and wasteful. I cannot begin to comprehend how people enjoy spending months "exploring" Asia, or finding themselves in Europe. I get homesick on the plane ride to my destination, which happened on this trip to Taiwan…
Right now, Karen and I are sitting at a dirty bus station in Kenting, Taiwan. Chinese is blaring from the television and the older couple in front of us is arguing about keys… I think he wants to drive but she's not letting him, perhaps he's too high on betel nuts. There are a couple stray dogs scratching at fleas and Karen has her arms crossed and a sad/pissed look on her face. It's my fault, I got us on the wrong bus, I hastily jumped on the first one I saw with the name of our destination to avoid the taxi drivers who kept harassing us with their red toothed smiles (from betel nuts). I tried speaking to the bus driver but my lack of Chinese skills got us nowhere. We stopped about 30 minutes later, after passing the beautiful beach we spent two days searching for, at this bus stop where a woman who could speak (but not read) English asked us where we were heading. After saying the name three times she understood me. Chinese is hard. We were on the wrong bus. Thank you kind woman for saving us…
So here we are in kenting. Tired, disappointed, and overwhelmed. This is exactly why I don't like traveling. It's too fast. Too much too soon.
Korea has been amazing. Somedays I feel like a Korean. I have pride for the country. In Taiwan the few times I've seen Hangul or something from Korea, I feel a little bit more comfortable and proud. I don't think I'm a traveller more of a temporary settler… I'd like to live in dozens of countries, but have little interest in just passing through them for a week…"
So, we headed from Kenting to Tainan.
TAINAN (Oh, WOW, this place is amazing!):
Our first few hours in Tainan were spent fighting about where to go, and what to do. My friend James, from University, who we were staying with, was not off of work until 7pm, and we were there at 4pm. We tried walking around the department stores he suggested, but were far too tired, and annoyed with our whole situation. We sat in a food court. Karen bought a smoothie, and put headphones in. We weren't talking.
A few hours later, James picked us up in a blue scooter with built on trailer. He took us to a nice restaurant for a delicious snack. We caught up, and I was relieved. Karen's mood lifted too. We both knew it was going to be better from here on out. And it was.
James has lived in Taiwan for five years, can speak Chinese, and knows his neighborhood well. During our time in Tainan we ate amazing food, drove around in his scooter on crowded streets, rode bikes and saw interesting sights (temples, and that tree house we have so many pictures of). Their house/apartment was really nice.
I could go on, but I don't really feel like it. I REALLY enjoyed our time in Tainan, and liked it much better than Taipei (James lived there for a two years, and said the food in Tainan is MUCH better). The food, the tea (!!), the company, the architecture. Everything was pretty perfect there, and I wished we would have just skipped Kenting altogether, maybe even Taipei.
I liked Taiwan, and I'm sure there will be times when I'll miss it, as we sometimes miss Malaysia.
Enjoy the pictures!
For PHOTO DESCRIPTIONS, view the photos on our flickr account. It's the Taiwan Set. http://www.flickr.com/photos/cory-and-karen/
-C & K
KAREN'S NOTE: We browsed some antique shops in Seoul this past weekend and saw some great Korean furniture and stone sculptures. It was neat seeing Korean antiques, as I'm accustomed to browsing the interiors of antique shops in the Midwest. Even though we don't need to purchase any such items (though some were really neat and the thought crossed my mind… How much would it cost to ship something home…) Anyway, it was a fun little adventure and I was proud of my Korean heritage. There were moments when I felt a twinge of sadness even… This is my culture, my background, and I know so little about it. I didn't grow up here, I don't have family members that I can inherit amazing Korean antiques from, or who can tell me about their lifetime here. I was just filled with emotion and pride for my heritage. There is so much beauty in Korean culture. I am so happy to be able to live in Korea, and I know I will miss it a lot!
Very Seuss-ical
WEIRD ADVERTISEMENTS FEATURING BABIES
"Baby, It's so funny when you eat my toxic chemicals!"
What is wrong with this kids mouth. Weird photoshopping, maybe? Not his mouth?
I also realized I've never really photographed our neighborhood. This is the main street:
Glad they're putting English to use…
Our street
I bought a new toy, the newspaper guy. Designed by Hong Konger, Bubi Au Yeung
-C